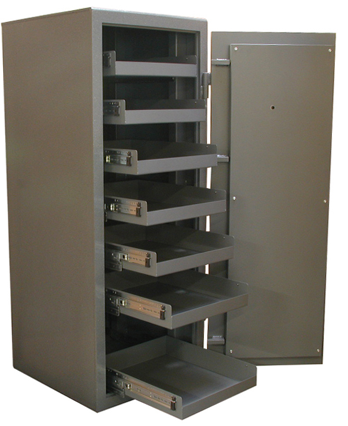 Cannabis Storage Safe With Slide-Out Shelving
Ideal for Storing Cannabis for Dispensaries, Approved CCBO outlets, Grow Operations, Pharmacies, or Hospitals.  Time Delay Locks Optional.  Two Models Available With Either Slide Out Shelves or Large Open Shelves for Organization and Easy Inventory Checks.
Cannabis Storage Safe With 4 Large Shelves
Features:
1/2″ Thick Solid Steel Plate Doors
1/4″" thick, fully welded steel body
1″ steel door frame reinforcement
Doors secured by S&G Group 2 Combination Dial Lock
Optional LaGard Digital Lock (with Optional TIME DELAY)
Optional SLIDE OUT SHELVES for Easy Organization
Lock protected by drill resistant hardplate
Independent, spring loaded relocking device
Four pre-drilled holes for anchoring (Anchor Bolts included)
Increase Safety & Reduce Loss – Add a Cash Safe
Deter holdups and employee theft by minimizing cash flow with time-delay. Separate compartments to reduce employee theft.
Model
Outside Dimensions
(H x W x D)
Weight (lbs)
Specs.
B-3024NSS (3 SLIDE OUT Shelves)
30"H x 24"W x 24"D
625
Download
B-3424NSS (3 SLIDE OUT Shelves)
34"H x 24"W x 24"D
650
Download
B-3624NSS (3 SLIDE OUT Shelves)
36"H x 24"W x 24"D
650
Download
B-3924N (2 Flat Shelves)
39"H x 24"W x 24"D
510
Download
B-3924NSS (3 SLIDE OUT Shelves)
39"H x 24"W x 24"D
650
Download
B-6024NSS (7 SLIDE OUT Shelves)
60"H x 24"W x 24"D
895
Download